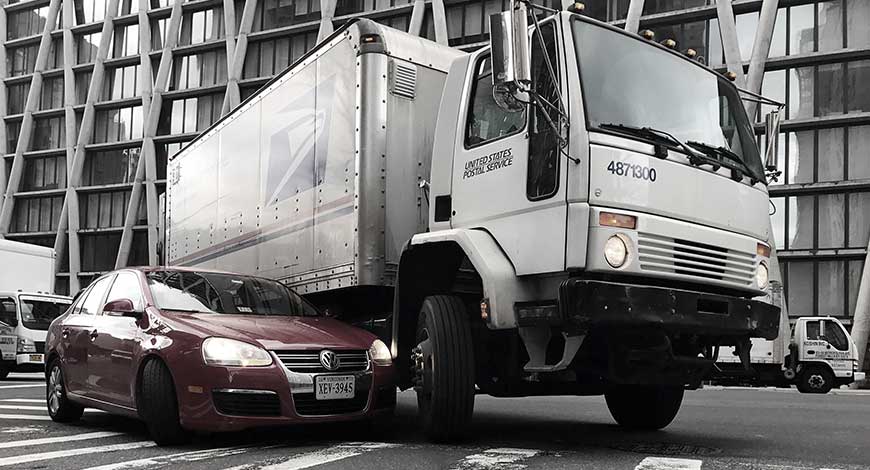 Truck Accidents
After a serious truck accident, your life is turned upside down. You must cope with huge medical bills, a long recovery period and a host of other problems.
In addition to being one of the most populous states in America, Florida is also a large international hub for exporting and importing. This means at any given time there are a large number of commercial trucks on Florida highways.
Many of the laws that apply to all vehicle accidents apply when a semi-truck is involved. If the accident is the fault of the semi-truck driver there could be a case for negligence. Under certain circumstances, the trucking company can also be held responsible.
As the victim of a negligent accident, you have rights. Pappas & Russell is a firm that helps victims of truck accidents and their families obtain compensation for their losses and suffering. However, in many ways, our mission is greater than that — we help our clients obtain the medical care and compensation they need to rebuild their lives.
Contact us for a free consultation and case evaluation.
Advocates for Truck Accident Victims and Their Families
The attorneys of Pappas & Russell have been helping victims of accidents and their families obtain medical care and compensation for more 20 years. We know the law regarding truck accidents, car accidents, wrongful death and other acts of negligence. Most importantly, we know how to use the legal system to obtain results for our clients. Our goal in every case is to maximum the compensation our client receives.
Building the Case for Compensation
They attorneys of Pappas & Russell will prepare your case systematically. Working with a professional accident investigator, we will establish the negligence of the driver and trucking company. This task is made easier by the fact that trucking companies are required by law to keep driver logs, maintenance records and other information. We will review this data as well as collecting our own evidence.
Our attorneys will also work closely with your doctor and other medical specialists to determine the medical treatment and long-term care you require. We will calculate your total losses, including medical bills, the cost of future treatment, lost wages and pain and suffering.
Free Consultation with a Lawyer
For more information about obtaining compensation for a truck accident, contact our firm.
How Can We Help !
We also accept cases involving boating injuries and airplane accidents.
To schedule a free consultation with one of our auto accident attorneys, please contact us today.
No matter what type of vehicle you were in when your accident occurred.
Pappas & Russell, wants to help you get the medical care and compensation you need to rebuild your life.
Free Consultation with a Lawyer